She can offer you great power
The fan art and crafts that come out of the gaming communities are one of my favorite things about social media, because there are so many talented people out there who make things I couldn't even imagine making myself. Whether it's a Breath of the Wild fan animation made with Nendoroid figures, a delectable Kirby cake, or a giant bead mural of all 150 first-generation Pokémon, the passion and talent of other fans never ceases to amaze me. This is also true of Zelda creator edlothian's new project, a series of handmade statues from The Legend of Zelda: Breath of the Wild.
You see them all over Hyrule in the game, these ancient-looking, beautiful statues of the Goddess Hylia, where you can pray to upgrade your hearts or stamina wheel. edlothian was able to beautifully recreate the statues using a 3D printer, as well as fake moss and foliage that are reclaiming the bases of the goddess figures. The end result leaves some statues that really look like they're made of stone somehow, like something out of the game come to life.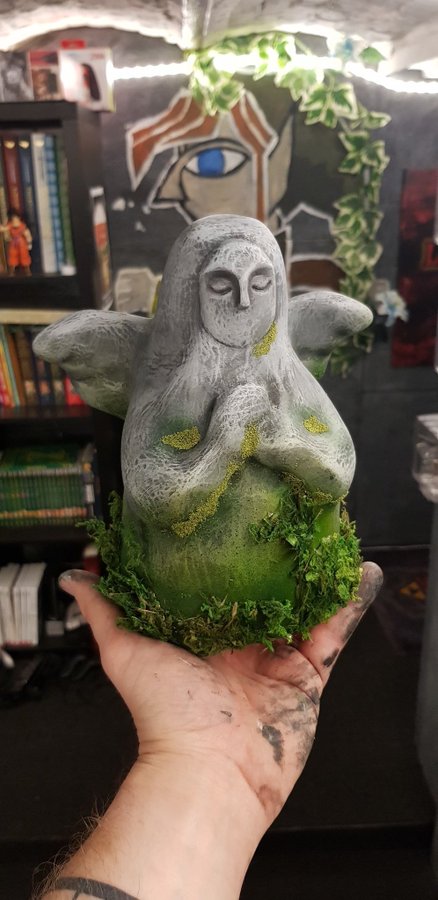 Personally, I'd love to have one of these in my house. In-game, they're placed in locations where the player knows they're safe, like by a peaceful pond in a town, or on top of a quiet, isolated mountaintop. I feel like having one of these Breath of the Wild statues in my room looking over me would make me feel safe in a way that I'm not sure I fully understand myself.
Considering how impressive these art pieces are, it's not surprising to learn that this isn't edlothian's first Zelda-fan-art-making rodeo. Some of their other projects include the Forest Temple from Ocarina of Time and a Skyward Sword-themed stand for their Link amiibo. We'll be looking forward to any of their future endeavors, but for right now, those goddess statues are some of the best fan art we've seen in recent weeks.
[Via Nintendo Life]